Concrete Soft Washing, Cleaning, And Sealing Service In Columbus Ohio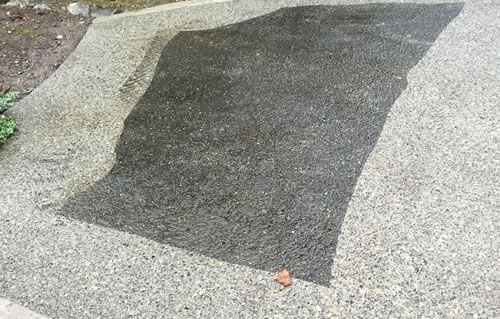 Do you have a concrete driveway, patio, or walkway around your home or property that is really dirty, or getting over-run by moss and algae growth?  Power washing will make your concrete surfaces look like they were just freshly poured again.  Concrete sealers will protect the surface from staining and make it easier to clean in the future.
Patio Wizards is a Columbus, Ohio based soft washing company providing concrete surface cleaning and sealing services for both residential and commercial clients.  We specialize in soft washing concrete surfaces of all types.  We can soft wash and clean concrete driveways, concrete patios, sidewalks, retaining walls, pool decks, and more.  We also offer concrete sealing services too!
Concrete Soft Washing & Sealing Services:
Concrete driveway cleaning
Acid stain concrete cleaning
Concrete patio and deck cleaning
Concrete pool deck cleaning
Concrete sealing applications
Exposed aggregate cleaning
We Do NOT Remove Oil Stains From Concrete Driveways
Oil stains are unsightly on concrete surfaces such as a driveway and they are very difficult to remove.  We do not make any promises to our customers as to the removal or disappearance of oil stains on concrete.  A good concrete sealer can prevent oil stains from occurring in the future but there isn't an easy way to clean them once they've already happened.  A good hot soft wash with steam and proper detergents *might* make it look a less noticeable but we cannot guarantee the removal of oil stains.
Protecting Your Concrete Surfaces With A Concrete Sealer
After cleaning your concrete surfaces, if you'd like to protect them from staining and moisture intrusion (a leading cause of concrete damage) then applying a good concrete sealer should be the next step.
A good concrete sealer works to block the pores in your concrete which can create an impermeable layer to prevent absorption of water and chemicals such as oil stains.  There a are a number of different concrete sealing products available depending on the type of concrete we're working with.
Patio Wizards Ltd. will need to look at your specific concrete surfaces to determine the best sealer for your application.
Stamped Concrete:  Patio Wizards steam cleans and applies 1gpm (gallon per minute) of solvent sealant that is then back rolled across the surface.  This will protect your stamped concrete for 3-5 years.
Broom Finish Concrete:  Patio Wizards steam cleans and applies 1gpm (gallon per minute) of penetrating sealer.  This can offer up to 10 years of protection for your broom finish concrete.
PatioWizards understands that replacing concrete is expensive.  Sealing your concrete is essential maintenance in preventing the need for replacement.
Why Choose Patio Wizards Ltd. For Your Concrete Cleaning & Sealing Service?
When you choose the Patio Wizards to soft wash and seal your concrete surfaces you're partnering with a small local company who truly cares about your project.  We are punctual, we're polite and courteous, we won't leave a mess behind, and we'll do it all for a price that is right in line with any of our competition.
Our soft washing technicians are knowledgeable and experienced when it comes to properly cleaning and sealing concrete surfaces.  You'll be very happy with the outcome!
If you'd like to schedule your concrete soft washing and sealing estimate please give us a call (614) 215-9167 or fill out our email contact form and we'll get right back to you.