Paver Repairs For Paver Patios, Walkways, Stairs, and Driveways In Columbus Ohio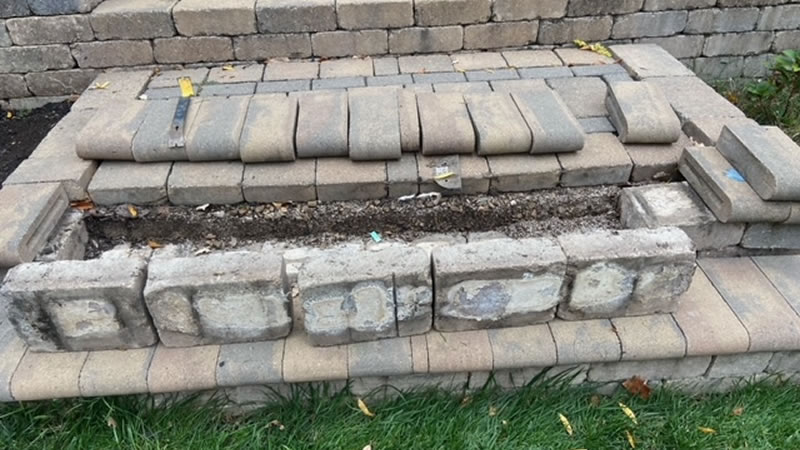 Paver System Repairs Columbus Ohio
Do you have a paver patio, walkway, or driveway that is in need of repair?  Do you have pavers that are lifting or that are uneven?  Are the edges no longer sharp and aligned correctly?
Patio Wizards Ltd is a paver repair and restoration company based out of Columbus, Ohio.  We specialize in the repair and restoration of paving stone hardscapes such as patios, walkways, and driveways.
The Most Common Repairs We Can Complete:
Repairing Edging:  Damaged edges where the pavers have sunk or lifted or just are no longer presenting clean lines can be repaired.  The cause is usually from a loss of base material which is most often caused by numerous freeze and thaw cycles and a lack of proper maintenance.  When water gets underneath your pavers it can shift the bedding sand and aggregate.
More often than not the repair can involve removal of the offending paving stones, installing new base materials, leveling the base and then reinstalling the stones.  We would need to view your paving system in order to determine what the best course of repair will be for your specific situation.
Leveling Uneven Sections:  It's not uncommon for us to be called out to repair patios, walkways or driveways that have lifted, sunken, or with otherwise uneven sections.  In some cases these problems can be caused by improper drainage leading to erosion of the base material.  In others cases even physical damage to the pavers by heavy objects (usually a vehicle).  We can lift out the pavers that are affected, install more sand as a base, tamp it down, and reinstall the pavers.
Installing Proper Drainage:  In many cases when the paver system was installed there was no drainage plan.  Without proper drainage for your paver system the underlying base can be washed away causing many of the issues we see with uneven sections and causing the edges of your paving stone hardscape to look a little rough.  We can assess the path of the water and then install a proper drainage system to protect against this type of erosion in the future.
Tuckpointing:  If your patio system uses mortared joints they can deteriorate over time due to a lack of maintenance or again from numerous freeze and thaw cycles.  We can remove the old mortar and replace it.
Failed Sealant Stripping:  When it comes to sealing paver systems we often see problems when the sealant has not been applied correctly.  A good sign that your sealant hasn't been applied properly will be white marks on the surface of your pavers.  In these cases we need to steam clean and strip the old sealant off so we can reapply the sealant correctly.
Why Choose Patio Wizards Ltd. For Your Paver Repairs?
When you choose the Patio Wizards to repair your paver hardscaping you're partnering with a small local company who truly cares about your project.  We are punctual, we're polite and courteous, we won't leave a mess behind, and we'll do it all for a price that is right in line with any of our competition.
Our paver repair technicians are knowledgeable and experienced when it comes to properly repairing paving stone hardscaped surfaces.  You'll be very happy with the outcome!
If you'd like to schedule your paver repair estimate please give us a call (614) 215-9167 or fill out our email contact form and we'll get right back to you.