Soft Washing, Cleaning, And Sealing Paver And Natural Stone Patios, Driveways, And Walkways In Columbus, Ohio.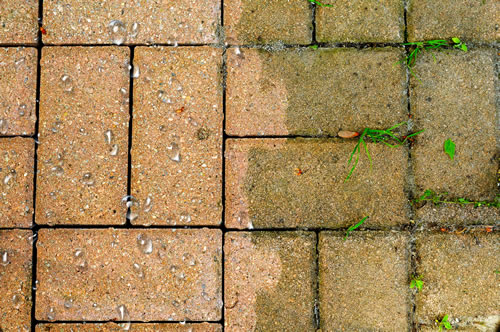 Are your paver or natural stone hardscaping features looking really dirty?  Is here built up dirt, algae, or moss on the surfaces that are making your property stand out for all of the wrong reasons?  Your landscape should look fantastic and well cared for, not dingy, dirty, and forgotten.  Thankfully you've found our website, because we're the team that can restore the beauty back to your property with a good thorough cleaning.
Patio Wizards is a Columbus, Ohio based soft washing company providing cleaning and sealing services for residential and commercial clients throughout the area.  We specialize in soft washing hardscapes built with brick, pavers, paving stones, and natural stone.  We can soft wash driveways, patios, walkways and pathways, pool decks, retaining walls, and more.
Brick, Paver And Stone Soft Washing Services:
Brick patio cleaning
Paver patio cleaning
Interlocking brick driveway cleaning
Natural stone hardscape cleaning
Retaining wall cleaning
Polymeric sand installations
Proper sealant applications
Sealing Your Brick Or Paver Hardscape - Is It Necessary?
Many of our clients are unsure whether they should seal their paver or stone surfaces.  Here are a few reasons why it's a good idea to protect your investment.
Properly applied, quality, sealers will make your hardscaped surface resistant to a variety of stains from spilled material, such as oil, or dirt.  They can also help inhibit algae and moss from growing on the surface.  UV rays from the sun can fade the natural color of your paving stones over time, a good sealer will protect it from UV damage, helping it retain it's natural color for much longer.
There are many different types of sealers available including matte, semi-gloss, glossy, and even high sheen to give your paver or stone a shiny like appearance or "wet look".
Polymeric Sand Installation Keeps Weed Growth & Insects At Bay
We are often asked by our clients how to prevent weed growth or tunnel boring insects like ants from getting in between their paving stones or interlocking brick hardscapes and ruining their appearance.
The answer is polymeric sand installation.  Polymeric sand is a bonding agent that is specially designed for this purpose.  After your surfaces have been properly cleaned, and they are totally dry, polymeric sand can be swept into all of the cracks and then lightly misted with water so it hardens up and forms a layer of protection between your stones.  The application of polymeric sand will prevent any weeds from breaking through, and will also work to prevent any insects trying to make your brick or paver surface their home.
Why Choose The Patio Wizards For Your Paver Or Stone Cleaning Service?
When you choose the Patio Wizards to soft wash and seal your brick, paver, or stone hardscape you're partnering with a small local company who truly cares about your project.  We are punctual, we're polite and courteous, we won't leave a mess behind, and we'll do it all for a price that is right in line with any of our competition.
Our soft washing technicians are knowledgeable and experienced when it comes to properly cleaning and sealing brick, paver, and stone surfaces.  You'll be very happy with the outcome!
If you'd like to schedule your brick, paver, or natural stone soft washing and sealing estimate or the application of polymeric sand please give us a call (614) 215-9167 or fill out our email contact form and we'll get right back to you.