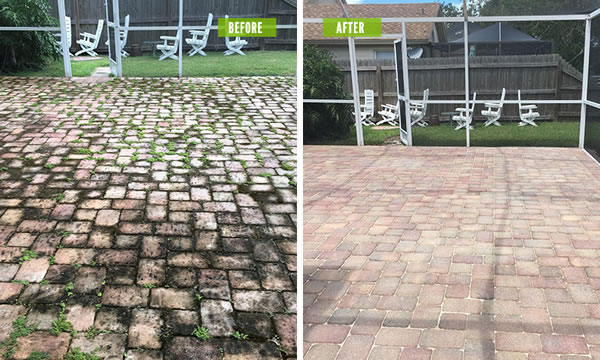 Concrete And Paving Sytem Sealing Services in Bexley, OH.
We specialize in improving curb by cleaning and protecting exterior surfaces.
If you're looking for an affordable and fast way to improve your curb appeal, you've just stumbled upon a great resource!  Maybe you're getting your home ready to sell in Bexley?  Maybe you're hosting an important event or gathering and you want your property looking it's best?  Maybe you'd just like to improve your curb appeal for your own enjoyment and satisfaction?  Whatever you're reason for searching for a soft washing and exterior cleaning company in Bexley we're glad you've found our website.
Patio Wizards is an exterior surface cleaning and restoration company based out of Columbus, Ohio and serving clients in the Bexley area.  We specialize in cleaning exterior surfaces and then protecting them with high quality sealing products.  We soft wash and seal brick, pavers, natural stone, and concrete.  We can clean all your hardscaped surfaces, clean your concrete driveway, clean your patio, and more.
Washing & Concrete Paver & Sealing Services Bexley
Types Of Surfaces We Can Wash, Clean and Protect
Concrete driveways, patios, and walkways
Concrete pool decks
Brick, stone, or paver patios, driveways and walkways
The Benefits Of Sealing Exterior Surfaces
Sealing your exterior surfaces such as wood, pavers, stone, or concrete helps protect them from the elements and makes them easier to clean in the future.  Proper sealing products and application techniques will also prevent staining, prevent damage from UV light, and prevent pre-mature color fade on your exterior surfaces.  The application of a good sealer will keep your exterior surfaces looking like new, for longer.
Why Choose Patio Wizards Ltd. For Exterior Cleaning & Sealing in Bexley?
When you choose the Patio Wizards to wash and clean or seal the exterior surfaces around your home or property you're partnering with a small local company who truly cares about your project and improving your curb appeal.  We are punctual, we are very polite and courteous, we promise we won't leave a mess behind, and we'll do it all for a price that is right in line with any of our competition.  We always leave a property in better condition than when we arrived.
Our soft washing and cleaning technicians are knowledgeable and experienced when it comes to properly cleaning the many different types of exterior surfaces.  You'll be very happy with the results we're able to achieve.
If you'd like to schedule your soft washing, exterior cleaning, and/or sealing estimate please give us a call (614) 215-9167 or fill out our email contact form and we'll get right back to you.