Roof Washing And Cleaning Service In Columbus Ohio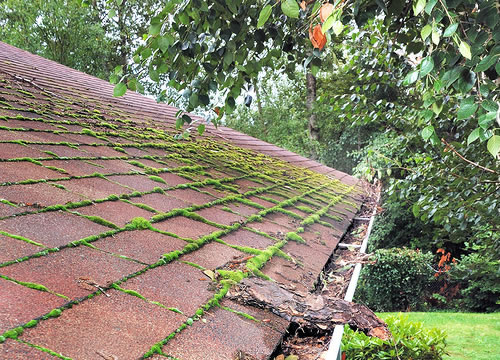 Does your home or building have a dirty roof?  Is moss and algae growing on the roof and making it look unsightly?  Dirty Roofs are very common if you just take a look around your neighborhood, you are bound to see the shady side of a few homes that will have moss and algae growing on their roofing material.  Having a dirty roof makes your property stand out for the wrong reasons!
Patio Wizards offers roof cleaning and roof softwashing services throughout Columbus, Ohio.  We specialize in carefully and safely washing roofing surfaces such as asphalt shingles, cedar shake shingles, tile, slate, or even metal roofing.
Did You Know…?  The black streaks you might see coming down your roofing shingles are actually algae that is living and feeding on the limestone filler in your shingles.  This particular algae known as "Gloeocapsa Magma" is very hard to remove and if left unchecked can take years off the life of your roof because it prevents the roofing material from working as designed.  As the rain washes the algae down your roof, you get those unsightly black streaks.
You've probably heard of several different methods a homeowner can do such as Zinc Oxide powder, Laundry Detergent and off-the-shelf solutions available at almost every hardware or home improvement store. These methods do not always work.  We use a specially formulated and eco-friendly solution that actually kills the mold, algae, and lichens that are growing on your roofing material.
Our Roof Cleaning Process
Soft Washing Won't Damage Your Roof.
Your Roof Will Look Brand New Once Again.
This Will Prevent Algae Growth For Several Years.
We Are Fast, Thorough and Affordable.
Never Pressure Wash Your Roofing Material, Especially Asphalt Shingles
Power washing your roofing material is a very bad idea and can void your warranty.  We all know that rain and hail can come down fierce and hard when pounded by the wind but it's no match for the concentrated jets of water from a commercial soft washer, especially with inexperienced hands operating it.  You can literally destroy an entire section of your roof in just a few quick seconds.
Why Choose Patio Wizards Ltd. To Clean Your Roof?
When you choose the Patio Wizards to clean your roofing you're partnering with a small local company who truly cares about your project.  We are punctual, we're polite and courteous, we won't leave a mess behind, and we'll do it all for a price that is right in line with any of our competition.
Our roof washing technicians are knowledgeable and experienced when it comes to properly and safely cleaning roofing materials.  You'll be very happy with the outcome!
If you'd like to schedule your roof washing estimate please give us a call (614) 215-9167 or fill out our email contact form and we'll get right back to you.